The Undefeated: Running While Black: Ahmaud Arbery's Killing Reveals Runners' Shared Fears of Profiling
BET.com: Morehouse Student Pulled From Car by Atlanta Police Amid Floyd Protests Says He Kept Thinking 'I Don't Want to Die'
The Crime Report: Inside Rikers During COVID-19: 'A Cesspool of Illness'
The Grio: Coronavirus Rips Through Notorious Rikers Island Jail Complex
The Grio: Youth Sports Taking a Long-Term Hit During Coronavirus Pandemic
The Grio: Activists Celebrate Civil Rights Icon Joseph Lowery: 'We Must Never Forget Him'
The Grio: Uphill Effort to Rename Bridge in Selma, Ala., After John Lewis
Fortune: Can an App Drive More Voters to the Polls in 2020? 
Fortune: 2020 Democrats Want Criminal Justice Reform
Fortune: What We Learned From Last Night's Democratic Debate 
Fortune: 5 Lessons History Has Taught Us About Impeachment
Fortune: NYC Mayor Bill de Blasio Drops Out of White House Race
Fortune: Who Won the Third Democratic Debate Last Night? Strategists Weigh In
Fortune: Biden and Warren Will Debate Tonight - Here's Where They Have Clashed
Fortune: Black Women Voters Are Key to the 2020 Race
(*the first to pick up on this trend and write about it)
Fortune: Houston Hopes Thursday's Democratic Debate at Historic Black University Drives Conversation
Fortune: Will O'Rourke and Castro Enjoy a Home-Field Advantage at Thursday's Democratic Debate?
Fortune: Gillibrand Dropping Out of 2020 Presidential Race
Fortune: Gap Between Joe Biden and Other 2020 Democrats Narrows
USA Today: Animal advocates mobilize to keep pets safe in wake of Hurricane Harvey
USA Today: Protesters demand removal of NYC statue hailing doctor who experimented on slave women
Trump tells law enforcement: 'Don't be too nice' with suspects
Deconstruction hailed as answer for ailing cities
Tour group motivated by Warmbier death says it is done taking Americans to North Korea
NAACP to dismiss president, CEO Brooks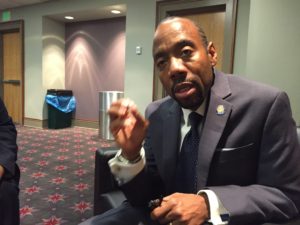 Facebook video of shooting prompts debate over sharing graphic images
NYC to close notorious Rikers jail complex